Vice Provost for Research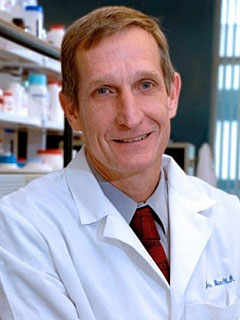 With over 140 co-authored publications and numerous NSF- and NIH-funded research studies, John Bixby, Ph.D., Vice Provost for Research and Professor of Molecular and Cellular Pharmacology and Neurological Surgery, has earned his place as a distinguished scientist and leader at the University of Miami. Dr. Bixby first joined the University in 1988 as an Assistant Professor of Pharmacology and has served as Senior Associate Dean for Graduate and Postdoctoral Studies, Director of the UM Neuroscience Center, and Founding Director of the Ph.D. Programs in Biomedical Sciences (PIBS).
Prior to his arrival at the University, Dr. Bixby completed his Bachelor's degree with distinction at Cornell University in 1975 and went on to earn a Ph.D. in Neurobiology at the California Institute of Technology in 1980. He served as a postdoctoral fellow at the University of California, San Diego, and at the University of California, San Francisco (UCSF) before becoming Assistant Research Physiologist at UCSF. Since 2003, Dr. Bixby has successfully collaborated with Vance Lemmon, Ph.D., the Walter G. Ross Distinguished Chair in Developmental Neuroscience and Professor of Neurological Surgery, to identify genes and signaling networks that promote or hinder axon regeneration following spinal cord injury.