Dean of the Miller School of Medicine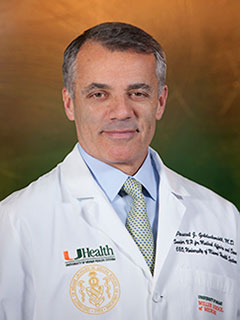 Pascal J. Goldschmidt, M.D., an internationally renowned cardiologist and cardiovascular researcher, is Dean of the University of Miami Leonard M. Miller School of Medicine. 
Since his arrival in April 2006, Dean Goldschmidt has overseen tremendous growth on the medical campus in Miami, with the November 2007 purchase of Cedars Medical Center, which is now University of Miami Hospital, the flagship hospital of UHealth. He also established the first allopathic internal medicine residency training program in Palm Beach County.
New global health clinical and research initiatives include the Global Institute for Community Health and Development and the International Medicine Institute. It was through the Global Institute for Community Health and Development that Dean Goldschmidt was able to launch and oversee the medical relief effort in Haiti after the January 2010 earthquake. A team of Miller School physicians, nurses and staff was the first to arrive in Port-au-Prince, and within nine days of the earthquake the University of Miami Hospital in Haiti was open and treating patients.
The research enterprise has also grown significantly since 2006 with the creation of the John P. Hussman Institute for Human Genomics, the Dr. John T. Macdonald Foundation Biomedical Nanotechnology Institute at UM (BioNIUM), and the Interdisciplinary Stem Cell Institute. All three institutes are headed by world-renowned researchers.
In October 2008, Dr. Goldschmidt received the inaugural Jay and Jeanie Schottenstein Prize in Cardiovascular Sciences from the Ohio State University Heart and Vascular Center. The prize is awarded biennially to an international leader in the clinical sciences of cardiovascular medicine, cardiothoracic surgery, or the basic sciences of molecular or cellular cardiology.
Dr. Goldschmidt, whose research applies genomics and cell therapy to the prevention, diagnosis and treatment of coronary artery disease, was previously chairman of the Department of Medicine at Duke University Medical Center. Before taking the chairman's role, he served as chief of Duke's Division of Cardiology.
Before joining the Duke faculty in 2000, he was director of cardiology at The Ohio State University College of Medicine and Public Health, where he built the Heart and Lung Research Institute and launched a heart hospital.
A native of Belgium, Dr. Goldschmidt received his medical degree from the Universite Libre de Bruxelles and completed residency and fellowship training in Brussels at Erasme Academic Hospital and in the United States at Union Memorial Hospital and The Johns Hopkins University. Following his training at Hopkins, he served as an assistant, then associate professor in the university's Division of Cardiology in the Department of Medicine, Department of Cell Biology and Anatomy and Department of Pathology until 1997.