Dean of the School of Nursing and Health Studies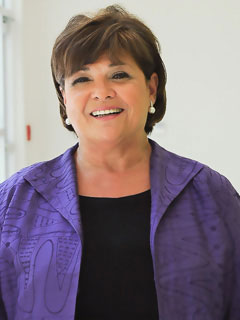 Nilda (Nena) P. Peragallo Montano, DrPH, RN, FAAN, is Dean and Professor, University of Miami School of Nursing and Health Studies. A nationally and internationally recognized nursing scientist specializing in health disparities and culturally competent interventions with minority populations, Peragallo Montano has devoted her 35+ year research and academic career to improving the health status of minorities and other medically underserved groups. Peragallo has a solid record of successful competitive research funding. From 2007-2015 she served as Director and Principal Investigator of the Center of Excellence for Health Disparities Research: El Centro, the first NIH P50 center grant awarded to a school of nursing. Peragallo Montano is currently Co-Principal Investigator of El Centro, which has been funded continuously by the National Institutes of Health/National Institute of Minority Health and Health Disparities since its inception. She is also Director of the school's World Health Organization designated Collaborating Centre for Nursing Human Resources Development and Patient Safety, an elite designation in place since 2008.
Peragallo's policy and leadership roles include past service on the NIH/NIMHD Advisory Council and co-Chairmanship of the Bipartisan Policy Center's Health Project Workforce Committee. She is past president of the National Association of Hispanic Nurses and founding co-editor of Hispanic Healthcare International. In 2012, she was appointed to the National Advisory Committee for the Robert Wood Johnson Foundation Nurse Faculty Scholars Program, and to the Board of Directors of IntraHealth International, a global health nonprofit organization that champions the role of health workers. She was selected by HispanicBusiness as one of the 100 Most Influential Leaders of 2012. She has been honored with a number of regional awards for her contributions to the South Florida community, including the 2014 In the Company of Women Award, Miami-Dade County Commission for Women, Parks Foundation of Miami-Dade and Miami Dade Parks.
Dean Peragallo has authored numerous professional publications and is a sought-after speaker in her field. She has mentored a number of Hispanic scientists who are now published authors and advancing in positions of leadership. She holds joint faculty appointments in the Department of Epidemiology and Public Health at the University of Miami Miller School of Medicine and Australian Catholic University Faculty of Health Sciences. She is a fellow of the American Academy of Nursing, a member of Sigma Theta Tau International, the honor society of nursing, and an inductee of the STTI Nurse Researcher Hall of Fame.