Dean of the School of Business Administration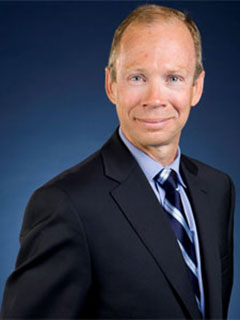 Eugene W. Anderson, a marketing specialist with a wealth of academic and administrative experience, is dean of the University of Miami's School of Business Administration. Anderson was formerly senior associate dean for academic affairs and professor of marketing at the Stephen M. Ross School of Business at the University of Michigan, where he served in several key positions, including founding academic director in 2000 for the school's Executive MBA Program, a role in which he led the design, development, and launch of the program.
In 2009 he was tasked as the Ross School's first academic director for action-based learning, partnering with more than 100 corporations, startups, and non-governmental organizations with an emphasis on projects focused on growth, innovation, sustainability, and social enterprise. He worked extensively with various units across the University of Michigan to enhance the students' college experience.
His academic research on customer satisfaction has been published extensively in academic marketing journals, including the Journal of Marketing Research, Marketing Science, Journal of Service Research, Management Science, and the Journal of Consumer Research, among others. He has served as an area editor at both the Journal of Consumer Research and Marketing Science. He won the Marketing Science Institute/Journal of Marketing Competition on Linking Marketing to Financial Performance and is a recipient of the FedEx Excellence in Service Research Award, the Andy Andrews Distinguished Service Award, and the Victor L. Bernard Faculty Teaching Leadership Award.
Anderson received his doctorate degree from the University of Chicago, and his master's and bachelor's degrees from the University of Illinois at Urbana-Champaign, all in business administration.